Dave Miller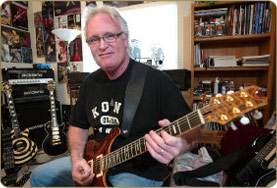 Dave has been involved in music for most of his life. He started at an early age playing piano, but discovered you were really cool if you played guitar. With that, he was lead ukulele player in his first band, and not long after, graduated to an old Silvertone acoustic guitar.
The defining moment in the start of Dave's music career was listening to a recording of Jimi Hendrix at Woodstock playing the Star Spangled Banner and Purple Haze. He was floored. Dave would come home from school, open all the windows, and play those two songs full blast on his father's mammoth stereo system.
"I would play those two tracks over and over. I assumed the whole world wanted to feel the same exhilaration that I did when listening to them. I later learned the neighbors were not quite as passionate. I knew that it was more than just wanting to play Jimi's music. I HAD to. It was an expression of my emotion, as well. It still gives me chills. In fact, I just recently played a note for note version of Jimi's Star Spangled Banner at our church talent show. Yes, it brought the house down!"
As life progressed, Dave's passion turned to rock and the heaviest metal you could play. What Dave also discovered was that most people didn't have his taste in music. Most people loved acoustic guitar. Dave formed a trio and was hired to play for dinner groups, small clubs and parties, church functions, and weddings, as well as funerals. In recent years, Dave has been playing in bands that are contemporary Christian or more rock/heavy rock styles for city events, fundraisers, church outreaches, youth and school events, and opening locally for various national touring acts. His interest also took him into a production setting where Dave worked with many professional acts that toured the country. Dave built stages, assembled huge concert sound systems, lighting rigs, and did video production for a broad spectrum of artists. Some of these bands are: Lynyrd Skynyrd, REO Speed Wagon, ZZ Top, Dwight Yoakum, and Glenn Campbell to name a few.
During this time Dave studied with world-class guitarist Tommy McClendon. Atomik Tommy M. provided an in-depth study of music, theory, and the technique required to advance farther onto a professional platform.
"Tommy has played on stages all over the world, in front of hundreds of thousands of fans in his tenure with world class bands UFO, Soul Motor, and as a recording artist with Chrysalis and Sanctuary records. His instruction to me has been priceless whether it be using theory to craft live solos in a stage venue or instruction on what seems to work best with equipment in a real world live setting. Tommy has spent countless hours working in professional recording studios and took the time to mentor me as he worked as a session artist or when he and his band wrote music for upcoming albums. Tommy has been a mentor to me and a true friend."
Dave's passion for teaching developed while instructing a few teens. He noticed that he was able to help their interest in playing guitar become a passion in learning about music. As they did so, their interest in drinking, drugs, and delinquency, was slowly replaced with a desire to spend more time practicing the guitar and increasing their skill level. With that positive influence came a change in the kids' behavior. Today, all of Dave's time is spent either teaching guitar to a broad variety of students or coaching young teens on how to start a band. He has also been instrumental in starting a new chapter of the national non-profit Guitars Not Guns program in the local area he resides in. This program helps deserving kids earn a guitar of their own as well as provide instruction for all the basic skills needed to learn to play.
Dave's Stable of Choice
Electric:
Gibson Les Pauls
Fender Stratocasters
Fender Telecaster
Ernie Ball Axis and EVH
Hamer Archtop Custom
Peavey Custom Shop HP Sig.
Jacksons
Ibanez
Acoustic:
Martin
Yamaha
Alvarez
Silvertone
Mark Miller (no relation to Dave)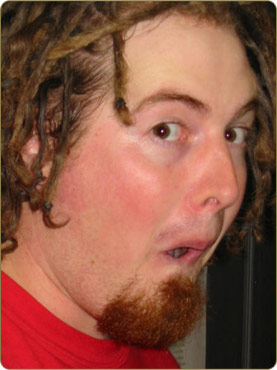 Mark Miller began playing guitar as a Junior in High School with the intent of leading worship for his church youth group. What soon sparked was a passion and love for the instrument that he never imagined. Upon graduating Lodi High School he discovered the classical guitar and began taking lessons with Terry Mills.
"School was always easy for me growing up, and I never really had to try hard. When I started playing classical guitar though, it was the first time I really felt challenged at something I really wanted to do. Frankly, I wasn't very good. I had a bad ear, no concept of rhythm, and my melodic retention was pitiful.

When I sat my father down to tell him I had decided not to become an engineer and was going to become a classical guitarist, he flat out told me that I had no talent and would not make it. It was like telling my dad that I had never played football before but would be trying out for USC next week!"
Mark spent the next two years at San Joaquin Delta College learning the art of the classical guitar under the tutalage of Terry Mills and developing the technique and musicianship he would need to make it against the competition of those who had already been playing for 10 plus years.
"I never had the raw talent that others had, but I had the smarts, determination, and love for the instrument that others didn't have. This has helped me immensly as a guitar teacher now because I had to learn in a way that the guitar would make sense outside of the realm of natural talent. Teaching needs to be clear and consise so that anyone can learn to play regardless of their natural ability."
It was at the exceptional guitar program of Cal State University Fullerton, lead by David Grimes, where Mark finally developed into the musician he hoped to become. He was invited into the school on scholarship, and graduated Cum Laude in 2003 with a Bachelor of Music in Guitar Performance. He was also awarded the faculty's annual "Instrumental Area" award and selected as a member into the National Music Honor Society, Pi Kappa Lambda.
"My teachers Richard Turner and David Grimes were simply put... Amazing! They brought out the best in me and helped me to develop the musicianship and skill that I craved. That's what I want to pass on to others and to my private students."
Mark's Guitars of Choice
Classical – '00 Richard Prenkert Spruce Top
http://www.prenkertguitars.com/
Electric – PRS Custom 24
http://www.prsguitars.com/