Gibson Zakk Wylde "Bullseye" Les Paul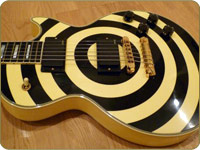 Before I begin this review, I want to say that I am not a journalist, gear review expert, or any kind of magazine review editor. I am just a professional guitarist who uses my gear to make a living by either teaching or playing live on stage in a couple of bands. I can tell you what I like about the gear I use as well as any dislikes or problems I have experienced due to any malfunctions or the like. My hope is that you can find some usefulness with these reviews to help you progress in your quest for that perfect tone that is you!
I want to give you a review of my Custom Les Paul Zakk Wylde edition guitar that I have used on some of our lesson videos. The guitar has got a unique tone that is great for metal, responds well with extremely fast machine-gun style riffs and leads, sounds great with heavy chunky rhythm, and overall responds really well to a wide variety of music styles.
I first ordered this guitar right before it became available as an official artist model that could be ordered from the Gibson Custom Shop. I had my dealer contact Gibson and place the order for that model. Interestingly, I had to wait about a year after my order to finally receive the guitar.
The day finally arrived when I was able to open the case. Wow, stunning to say the least. The antique white on mine is a bit more crème colored. It looks more like the antique white/crème color of the Les Paul that Randy Rhoads used live and in many photos. The black bull's-eye circles were very sharp and expertly painted. The finish was perfect. I did notice however that the finish was a little soft in a few areas as if the paint or finish had not hardened yet. Like it was painted and put in the case and rushed to shipping without the finish fully drying or hardening. Then again, I have never special ordered a custom guitar from the Gibson Custom Shop. Maybe they are all that way? Anyway the finish has hardened and I have had no problems with it since.
Most Les Paul Customs are heavy and mine is no exception. It weighs in at 10.6 lbs. The wood used for the body is a thick maple cap over mahogany. After many years of use now, I hardly notice the weight. That's probably because tone from this guitar just seems to get better with age.
Hardware and Features
The three-piece hardrock maple neck is actually unfinished but it is lightly sealed. The neck shape is a bit thicker than a standard neck and has more of a D shape. The fingerboard is ebony with Dunlop 6100 extra jumbo fret wire. Mine was nicely finished but I could see some very light hand-filing marks around the neck binding where the nibs touch the frets. Everything looked level. The headstock and finish is typical of a Les Paul Custom with the diamond mother-of-pearl headstock inlay as well as mother-of-pearl block inlays on the ebony fretboard. On the back of the headstock is a black silhouette of Zakk standing playing the guitar. Also present is the Gibson Custom Shop decal and serial number. The guitar is a standard 24-¾ scale as on all LPs.
The knobs are black speed knobs and all the hardware is gold as are the tailpiece and Nashville TOM bridge. Again all nicely set up.
The pickups are active EMG. An EMG-81 in the bridge slot and an EMG-85 at the neck. Both of these require a nine-volt battery to operate. EMG says the pickups will last up to a year of normal playing. Not bad. Personally I like to check the voltage often and replace the battery when I see it drop below 9 volts. I prefer the hottest signal I can get from the pickups.
Oh That Tone!
So now the big question is what does this thing sound like? I plugged into a Boss SD1 overdrive, Boss CH1 chorus, high-quality cable, into a stock Marshall JCM 2000 100watt head with a stock JCM900 B-cab with stock Celestion 75 watt speakers. I set my amp to a basic AC/DC crunch. I was surprised how fast the attack was with this guitar. I am sure a lot of that is the EMGs. The sustain seems much greater as if you are using a slight boost in your signal even though your not. Tons of attack with the 81 bridge although a bit more treble bite and presence than I prefer. Some of that obviously is due to the speakers and amp settings, type of tubes I was using at the time, etc. The EMG 85 neck pickup turned out to have one of my favorite tones. Not too bright, not too dark, just right on with positively tons of sustain. The perfect woman tone. Add the SD1 with a slight amount of chorus and I can absolutely nail that Zakk Wylde tone.
My perception is that the EMG active pickups have a broader spectrum of frequency. On this guitar the EMG 81 has good low end and is balanced well with the mids. The top end seems to have very nice detail but at times a bit too much presence. Of course the answer is the right setting on the guitar's tone knob, pedal and amp settings. Some of this is characteristic to active pickups. All that aside, one of the largest improvements to this guitars already good tone was to change string gauges. My favorite gauge has turned out to be a 10-60. That seemed to add incredible chunk and beef on the low end, but still offer very fast picking attack. Stills allows for great string bending and keeps the presence needed to cut through in a loud two-guitar band or playing extreme metal.
Overall Impressions
Overall, this guitar has turned out to be one of my favorite guitars that I use live. It is starting to get lots of little dings and scratches, but it is made to be used. And it has been a great choice. My pedal board set-up now includes the MXR ZW wah and ZW overdrive, Fulltone OCD, and the new MXR Black Label Chorus. I will write about this stuff later. But the ZW guitar has really turned out to have a great live sound. Roll the volume back on the guitar and it cleans up, or I can wick up the volume and hit a pedal or channel 2 on the amp and it cuts through our two-guitar band with great definition. It also can pretty much nail that Zakk Wylde sound if that's what you're looking for, as well.
I will most often use the ZW LP through the Marshall as it has that great LP and Marshall sound just with faster attack. I have recently been using a Soldano SLO100 with a Soldano B-cab with very similar results. I have to say it sits great in the mix, fits well with the sound of the band, and has a great clean sound, as well. This is not a drawback of the guitar, by any means, but be aware this guitar does not sound like a Gibson Custom Shop Les Paul '57 gold-top reissue. But then again, a Soldano SLO100 is not a Vox AC 30!
Please feel free to e-mail me with questions on anything else I can share about this guitar, my set-up specs, pickup height or the like at:
dave email hiptonesmusic 2 com